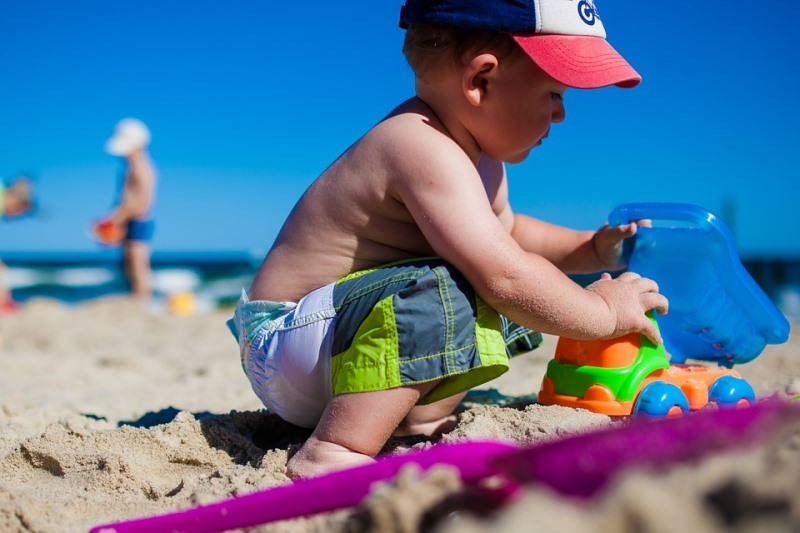 2150 day ago
The cold weather has already shifted and now that it is summer, the temperature continues to rise. This is the best time to take advantage of the clear warm weather by getting active outdoors instead of sitting in your favorite chair  watching your children play and run inside the house.  However, you might be worrying that your children have outgrown their old summer toys since this is a common occurrence as they get older. Luckily, this will not be a problem since there are a lot of new summer toys out today that your children will definitely enjoy.
If you are searching for the coolest summer toys for your children that will not really burn a hole in your pocket, here are some of the best ones for 2017:
Castle Play Tent
The castle play tent also promotes imaginative play which is both fun and beneficial for your little ones. Does your son want to be a knight in shining armor, or does your daughter want to be a princess? You can now make their dreams come true with this year's coolest play tents. These are not just ordinary tents since these resemble a castle and are a perfect addition when your children wear costumes. What makes the tents great is that these feature a material that provides protection from UV rays; plus, these also have a storage bag to make the tents easier to store and transport.
Whistlecopter's LED Light Up Skateboard
Take advantage of this season's clear weather and go on a cruise with the LED Light Up Skateboard from Whistlecopter. This twenty-two inch Penny board features 10 cool LED light settings, plus its lights are extremely bright which is why it will brighten up your path even at night. This LED Light Up Skateboard from Whistlecopter is made from high-quality materials which make it very durable and unbreakable and a safe toy for your children. This skateboard  comes with a USB Cable that is used to connect the skateboard to your computer when it needs to be charged; two to three hours of charging allows you to use the LED Light Up Skateboard for seven to eight hours. Additionally, Whistlecopter's LED Light Up Skateboard features a battery which can also be charged up to 5000 times.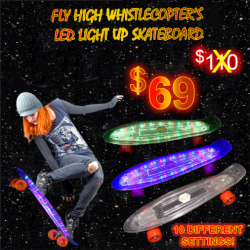 Jungle Gyms helps eye Hand Coordination
What makes the jungle gym one of the best summer toys this summer is that it also encourages children to socialize and meet fellow children who also enjoy playing with the jungle gym.  Socializing is another important skill for children since this teaches them how to interact with others, make friends, work as a team, and resolve conflicts.
Jungle gyms can be seen in almost every playground, yard, and garden since children love climbing different things. In fact, this is beneficial when it comes to muscle development, plus it also helps maintain one's strength and posture. Aside from this, playing on a jungle gym is also considered  exercise and doing this regularly can improve hand-eye coordination; this is because playing on jungle gyms will require the children to move from one place to another while using their hands and feet. They will also need to deal with a variety of obstacles and challenges to complete the gym's course.
Whistlecopter's Bubble Gun is the Best One
Shoot hundreds of bubbles in the air with Whistlecopter Bubble Guns while at a pool or beach party this summer. The amazing Bubble Guns are easily recognized by children since these are designed after the cartoon characters from the two popular Disney movies – Finding Nemo and Finding Dory; the Nemo Clown Fish Bubble Gun has a peach-colored translucent body while the Dory Clown Fish Bubble Gun is blue. Both of these are lightweight, easy to grip, and plays music when you shoot bubbles. Additionally, the bubble guns feature four LED lights; one of these lights is placed in the mouth of the toys so blue bubbles come out when you pull the Bubble Gun's trigger. Moreover, these toys come with two bottles of bubble solution, as well as batteries and just like every other toy from Whistlecopter, the Bubble Gun's batteries are all brand new so you can be sure that this product is top notch.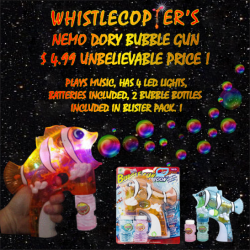 Whistlecopter's Light Saber Sword
The latest Star Wars movie will soon be released and the best way to make your children feel and experience the world of Star Wars is by letting them play with the brightest Light Saber Sword from Whistlecopter. This toy features eleven LED lights with three varieties of light settings; the handle also emits bright LED lights which will make anyone feel like they are wielding the laser swords in the movie. These Light Saber Swords are among this year's most amazing toys that promote imaginative play for children which is highly beneficial for their mental development.